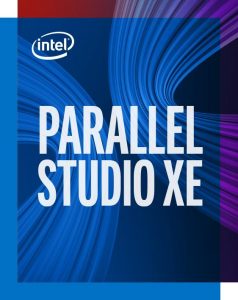 Intel Parallel Studio XE 2019
What's new in the 2019 edition? 
Improve application performance on the latest Intel® Xeon® and Core™ processors with new features and enhancements in compilers, performance libraries and analysis tools

Vectorise and thread your code (using OpenMP*) to take advantage of the latest SIMD-enabled hardware, including Intel® Advanced Vector Extensions 512 (Intel® AVX-512)
Accelerate diverse workloads across enterprise to cloud, and HPC, to data analytics and AI

Extend HPC solutions on the path to Exascale — Gain greater scalability and reduce latency with next-generation Intel® MPI Library
Use a new, more accessible (intuitive) user interface in Intel® VTune™ Amplifier for a simplified profiling workflow with familiar terminology and logical groupings. Preview a new platform profiler for longer, higher level performance analysis
Visualise parallelism with rapid visual prototyping environment—Interactively build, validate, and visualize parallel algorithms with Intel® Advisor's Flow Graph Analyzer
Speed machine learning by enabling new high-performance Python and library capabilities
Supports industry standards and IDEs

Intel Parallel Studio comes in three key editions based on your development needs.
Intel Parallel Studio XE Composer Edition
Intel Parallel Studio XE delivers outstanding performance for your applications as they run on systems using Intel Core or Xeon processors, including Xeon Phi coprocessors, and IA-compatible processors.
Intel C++ Compiler – industry-leading C and C++ application performance with built-in advanced parallelism support with Intel Cilk Plus and OpenMP support.
Intel Distribution for Python
Intel OpenMP – implement scalable parallelism using OpenMP 5.0 standard. Compatible with all C, C++, and Fortran compilers using standard APIs for simple code integration.
Intel Cilk Plus – the simplest way to add scalable vector and task parallelism – using only three keywords.
Intel Math Kernel Library – extensive C, C++, and Fortran compatible math library that uses standard APIs for simple code integration.
Intel Threading Building Blocks – widely used C++ template library with a rich set of components to efficiently implement higher-level, task-based parallelism.
Intel Integrated Performance Primitives – optimised C++ library of software functions for multimedia processing, data processing, and communications applications.
Intel Parallel Studio XE Professional Edition
The Professional Edition includes all of the functionality of the Composer Edition, plus:
Intel Inspector XE – quickly find memory leaks and memory allocation errors, locate difficult-to-find threading errors like data races and deadlocks and detect out of bounds accesses and dangling pointers.
Intel VTune Amplifier XE – collect a rich set of data to tune CPU and GPU compute performance, multicore scalability, bandwidth, and more. Sort, filter, and visualise results for quick insight into performance bottlenecks and automate regression tests and collect data remotely using the powerful command line.
Intel Advisor XE – analyse, design, tune, and check your threading design before implementation, explore and test threading options without disrupting normal development and predict thread errors and performance scaling on systems with more cores.
Intel Parallel Studio XE Cluster Edition
The Cluster Edition includes all of the functionality of the Composer and Professional Editions, plus:
Intel MPI Library – performance-optimised MPI Library with sustained scalability: low latencies, higher bandwidth, and increased processes.
Intel Trace Analyzer and Collector – powerful MPI communications profiling and analysis with low overhead and effective visualization.
Check-out the video on Intel Parallel Studio XE 2019 here.